Who Run the (Wine) World? You Know
03/21/2021 at 17:41 pm
March isn't over yet and neither is our shoutout to the women producers in our shop and beyond. We stan them all year round, and so should you!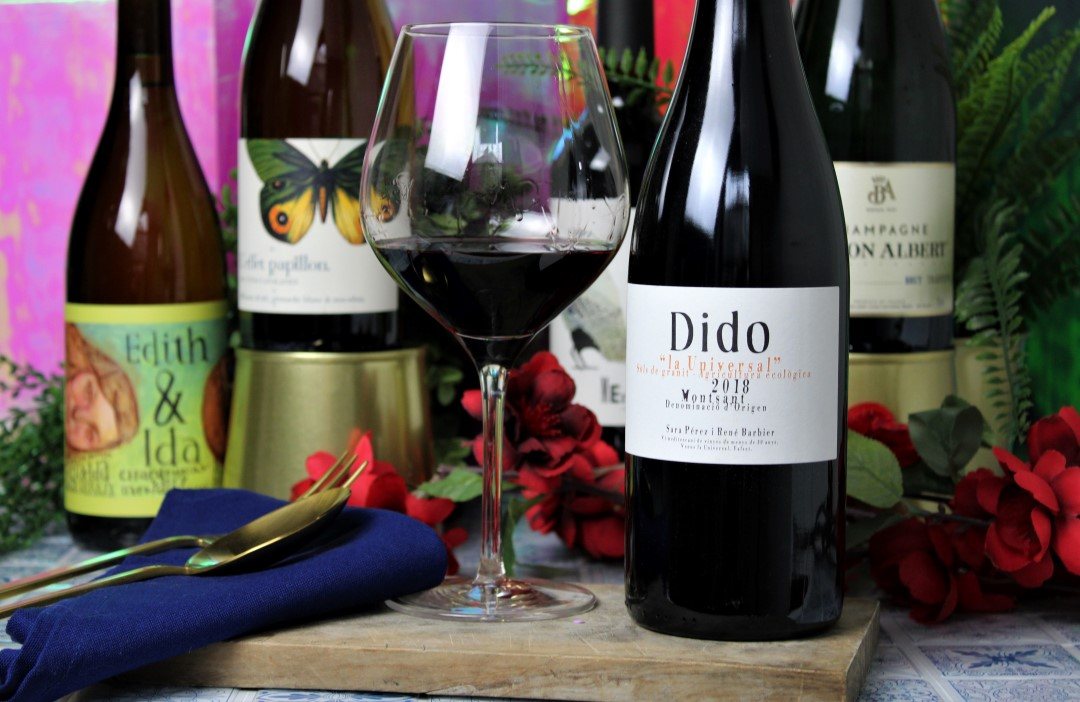 Pares Balta: It's All About the Crafts(wo)manship
The roots of Pares Balta go back to the 18th century with the first vines being planted in 1790. Always a family owned winery, nowadays the winemaking is in the capable hands of Maria Elena Jimenez and Marta Casa, oenologists and wives of Joan and Josep Cusine who manage the company. This dynamic winemaking duo have invested in organic and biodynamic practises (since 2012) for their whole estate and continue to push the standard for quality in and out of the cellar. Pares Balta is a shop favorite and we've been crushing on their wines for years. Personality and expert crafts(wo)manship you can taste in every sip.

Sara Perez: A Little Machisma Goes a Long Way
There are five founding estates of the Priorat region of Spain. Mas Martinet was the first, with a lush history going back to Josep Lluis Perez in 1989. It is important to note that the family did not yet have a history with winemaking and took up tedious study of enology and a meticulous observation of the micro-climate, soils, and native grape varieties of the region in 1981, and passed that hard earned knowledge on to future generations. Today, Lluis' daughter Sara Perez is responsible for the day to day. As well as the original farm, there are 3 single vineyards, one of which was planted by Sara herself, so this is no small feat! She also has her own project she runs with her husband, Rene Barbier, Venus La Universal.
Both are the children of the two great pioneers of the Priorat, Josep Lluis Perez of Mas Martinet and Rene Barbier of Clos Migador. While Sarah took over Mas Martinet from her father, this project is uniquely her own. She decided to stake claim for this new venture not in Priorat but in the slightly less high profile D.O. of Montsant, where she could really let her creativity and passion bloom. One of her stated goals for Venus La Universal is "to interpret femininity through a bottle of wine", even when making Grenache and Carignan based wines. And isn't that just the nature of femininity? To defy convention and present itself as both strength and elegance all at once? Her wines embody this duality, as elegant and refined as they are sensual and strong.
Day Wines: Wine and Wanderlust
Brianne Day's winemaking journey is truly a lesson in ambition and chutzpah. After a lifelong love affair with wine and winemaking in 2006 she sold everything she owned to travel through wine regions all over the world, visiting around 80 regions in 8 years. Working with wineries in Burgundy, Argentina, Australia and New Zealand until settling in Oregon. In 2012 she started her own winery in Applegate Valley. A small, critically acclaimed production of Pinot Noir put her on the map propelled her into major operation she runs today. She chooses to defy convention by experimenting with underappreciated grapes, and sourcing from exclusively organic and biodynamic vineyards all while creating distinct expressions that speak to terroir and craft.
Edith and Ida: Wine on a Mission
The Hobo Wine Company is a small family operation run by spouses Lynn Wheeler and Kenny Likitprakong in which everyone wears several hats. They produce several wines under five labels, including Edith & Ida, and Folk Machine. Hobo Wine Company also has many social initiatives, from supporting Black Lives Matter, to powering their winery with local renewable energy, that are fundamental to their winemaking philosophy, to give back to both the land and the community. These wines are ambitious, socially responsible, and true indicators of terroir.

Forlorn Hope Wines: Repping the Underdog
Forlorn Hope Wines, managed by winemakers Matthew Rorick and Danielle Shehab (who also makes wine, runs sales, marketing and the tasting room!), prides itself honest and pure representations of site and variety. All their wines are grown organically on their estate, Rorick Heritage Vineyard, in the Sierra Foothills, California. Deeply devoted to producing wines that embody the uniqueness of their estate, they believe in minimal intervention both in the vineyard and cellar.
Danielle is a downright maverick. With no wine history, she bought a one way ticket from Maine in 2016 and never left, falling in love immediately with winemaking and agriculture and has devoted her life ever since to the cause. Danielle and Matthew's passions extend beyond the vineyard as they actively support Black Lives Matter and have pledged to amplify BIPOC and LGBTQ+ voices in the wine industry (check out the organizations they support here).

Baron Albert: The Best of Both Worlds
Champagne Baron Albert is a modern fairy tale of sorts. From Albert and his wife Beatrice who first started the initiative in 1946, to their sons, Gilbert, Gervais and Claude who turned their parents' passion into a thriving large-scale business, which takes us to the modern day. Claire, Lise and Aline are Claude's daughters and they run their estate with great reverence for their long history with the land. The Baron sisters are proud to be pioneers in integrated viticulture, in 2016 the House was amongst the first estates to obtain the Sustainable Viticulture in Champagne and High Environmental Value certifications. They always work with their wines in the most natural way both in the vineyard and cellar. With such firm roots in tradition it would be easy to shirk off innovation, instead the sisters look resolutely forward, constantly looking to improve the quality of both their Champagne and the lives of their employees. These wines are marked by the knowledge and finesse of history and tradition with the freshness and liveliness of those not afraid of innovation and exploration, truly the best of both worlds.

The McBride Sisters: Break the Rules. Drink the Wine
"Break the rules. Drink the wine." is pretty much all you need to know about the McBride Sisters Collection. Robin and Andrea, raised separately in Monterey, California and Marlborough, New Zealand, two of the world's most iconic wine-growing regions, found each other from opposite sides of the globe, defying all odds to come together in California in 2005. When they discovered each other, they also learned that they shared a love of wine, agriculture, and a desire to shake up the industry. This idea pushed them to start their own project that would harmonize old-world elegance and new-world finesse. Over time, McBride Sisters has grown into what is not only the largest Black-owned wine company in the US, but one of the most inclusive, accessible, socially aware and sustainable.
Hunky Dory: Dedicated to Making Everything Better
Founded by husband-and-wife winemaking duo Mike and Claire Alla run Huia Vineyards (pronounced "HOO-yah"), one of Marlborough's only producers dedicated to the production of minimal intervention, organically farmed wines. The couple was drawn to Marlborough for its lush beauty and the full flavored, elegant wines produced there.