One Community, Two Stories: Q&A with Jed Marcus
05/15/2020 at 12:56 pm
Your donations for food-insecure seniors in our community have been flooding in, and we couldn't be more grateful! Every donation gives a vulnerable member of our community access to fresh food they haven't had access to in weeks. That in turn means better nutrition, stronger immune systems, and a healthier community across the board.
Of course, we couldn't do what we do without our partnership with longtime Fort Greene organization One Community, along with One Community's director, even-longer-time Fort Greene resident Jed Marcus. When asked how long he's lived in Fort Greene, Jed often replies, "I helped build the fort!" We had a remote sit-down with Jed, and asked him all about One Community, the impact of donations, and his love for the neighborhood.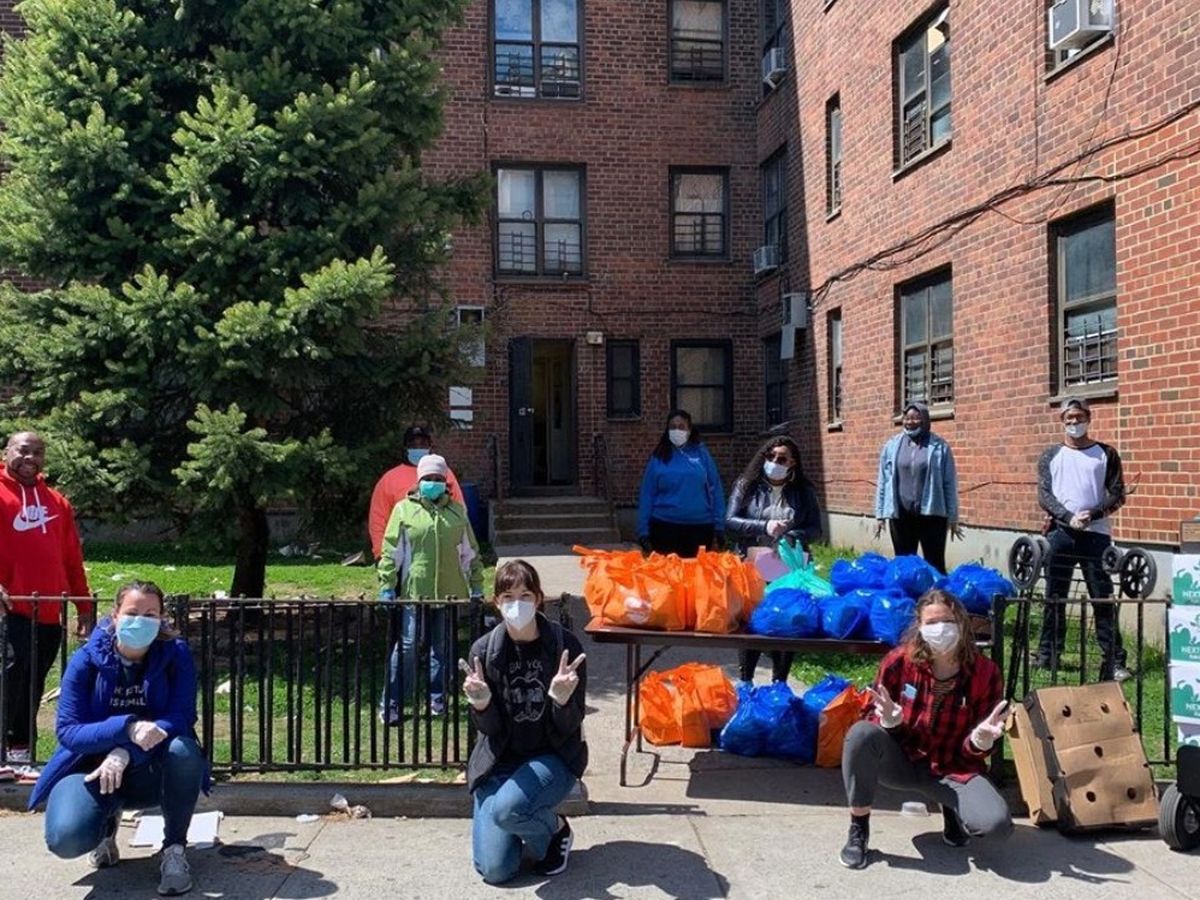 As a long term Fort Greene resident, what do you find most special about our community?
Fort Greene is well resourced in all the best ways! It's a community that's diverse, caring, active, and thoughtful, with many talents. There's a cornucopia of institutions, many of them for the arts—BAM, BRIC, the Center for Fiction, and colleges like Pratt, as well. There are cathedral-like churches, with beautiful singing on Sundays, and it seems like everyone has their favorite. There are beautiful homes, of course, from mansions to brownstones, and increasingly interesting towers, as well as apartment complexes of economic diversity. This neighborhood is unique in its richness that surrounds us. And that actually leads right into the next question!
What led you to launch One Community and what are your goals for the organization?
Adjacent to us, there's part of the neighborhood entrenched in poverty. It's actually the second poorest census-tracked neighborhood; there are public schools in the north part of the neighborhood that are challenged, and Fort Greene has one of the largest concentrations of public housing in the city. It's a neighborhood that has two very different stories to tell, and once you say that, the name "One Community" just becomes obvious!
One Community recognizes that we have a deep richness of resources, and some very powerful institutions, especially in terms of the impact they could make, but these institutions are not equally accessible to everyone in the neighborhood. Myrtle Avenue is something of a boundary between the two main parts of the community—people don't really cross the invisible wall there. One Community tries to make sure that those institutions of the community are accessible to all, and that everyone feels they can make claims for those institutions and all the resources in the community, and that all can share that richness of community.
How is One Community making a difference during the COVID-19 outbreak? How did you come up with the idea to partner with The Greene Grape?
Myrtle Avenue Brooklyn Partnership has monthly food pantries giving out fresh produce, and one of those pantries happened to coincide with the beginning of shelter in place order in New York. So I said to Chad Purkey, the director of MABP, that seniors and vulnerable people won't be able to make it, these are people who can't leave their homes, and Chad agreed. I said we have to create a food delivery mechanism for these people who can't go out.
We quickly switched gears and reached out to the Clinton Hill Fort Greene mutual aid group, asking if they'd like to partner with us and the MAPB to deliver food to seniors who don't have other ways of safely getting food. That first weekend we delivered to 209 households, and this past weekend we delivered to 817 households. Every weekend we add at least 100 new households, and we expect it'll continue to grow. We're now partners with 21 organizations, with over 60 volunteers, and food from five different sources. It's truly amazing how we've been able to build something this complex in a very changing environment to serve people. It's great evidence of what people working as "one community" can do!
Greene Grape is one of our food sources, of course. Amy is a brilliant business person, so I went to her with the issue that the food that we get is canned and packaged non-perishables. We wanted to give people the perishables we all like—fresh food. I asked Amy, "How do you think we can address this?" and Amy simply replied, "I'll start doing it!" No hesitation. Ever since, Greene Grape has been supplementing our food deliveries with fresh items that our organization can't handle because we have no refrigeration capacity.
What are the greatest needs for the organization right now (donations, volunteers, space, transportation, etc.)?
We have two kinds of needs. First, public facing needs: Volunteers! We always need smart people to help lead projects. Second, in house needs. We need people who are smart in data management, graphic design, social media, and business planning.
Food distribution is very cost effective, of course; space is donated, labor is volunteered, and so on and so forth. But every week we need materials. hand carts, packing materials, masks, gloves—we always need supplies. We have a Gofundme page, as a matter of fact. Each week we burn through what we get, so most of all, we need a continued stream of donations.

Want to help? You can check out OneCommunity's website, OneCommunity's Gofundme page, and you can donate bags of fresh groceries to food-insecure seniors in our community.