04/24/2020 at 04:39 am
Spring Selections from Emilia D'Albero, Cheese Department Manager/Buyer

There has never been a better time to eat a cheese board for dinner.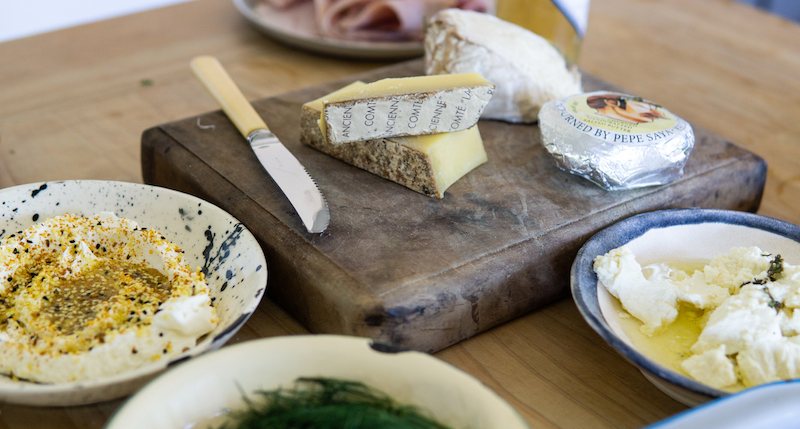 If you've stopped by the Greene Grape recently, you may have seen me working behind the cheese counter wearing my signature red bandana, and you may have even asked me for a recommendation! My favorite cheese changes every day, but my recommendations in the last few weeks have been almost exclusively domestic cheeses.

The dairy and cheese industry has been hit hard by the pandemic, and they desperately need our help. Spring is an important cheesemaking season–after the baby cows, goats, and sheep are born, farmers are left with excess milk that, under normal circumstances, would be turned into cheese and sold in restaurants and bars around the country. With so many of these businesses shuttered as a result of COVID-19, many small dairies and cheesemakers have lost nearly 80% of their business, and the cheese and milk have nowhere to go. You may have seen photos online of despondent farmers standing by as their milk is dumped, or read about farms like Jasper Hill in Vermont unfortunately dispersing parts of their herd. Many of the small producers affected are family farms, or run by just a few passionate people, and this loss of business is potentially devastating for them. Some of America's best artisan cheesemakers are caught in an increasingly dire situation.

The good news is that we have the power to change that, as both cheesemongers and consumers. My role as a monger and a buyer is to source the best local and artisanal cheese that both suits our customers' needs and supports the producers. I embrace my role as the link between makers and mongers - my job is not only to cut cheese, but to educate. I'm lucky that the Greene Grape has some of the most fantastic customers in Brooklyn, who are always open to trying things and learning something new!

Just as many businesses are pivoting and changing their operating procedures as a result of the quarantine, my buying habits are changing, too. I am in a unique position right now as the buyer at an active full-service cheese counter in New York City, and my role in the artisan cheese supply chain has never been more critical. I have spent the last few weeks looking for local cheesemakers in need of assistance and working with our distributors to bring their products directly to our customers.

At the Greene Grape, our case is stocked with the best cheeses I could find from some of my favorite local producers, and even more that I discovered in my research. Many are small-format, fresh, and soft cheeses with shorter shelf lives that would have been destined for the spoils bin had they not been taken home and enjoyed by the good people of Fort Greene and beyond! It's important to me that our customers know that the majority of money spent on locally sourced artisanal cheese goes straight to the producers - keeping animals cared for, humans employed, children fed, and families housed. It keeps the lights on in dairies, creameries, and aging facilities around the country, not to mention your favorite local grocers and cheese shops! Buying local products keeps the American cheese industry alive, now more than ever.

The next time you're at the store or ordering grocery delivery online, I implore you to give a local cheese a try. You might be surprised with what you find! Most small-batch cheeses are completely handmade with the highest quality ingredients and are the product of years of research and experimenting. Some American cheeses are even world champions!

From a tried-and-true crystalline gouda to a custardy, funky little washed rind to a tangy, ashed-ripened chevre, I guarantee that your new favorite cheese is waiting for you at the Greene Grape. If you want to do your part but already have some cheese in your fridge that you haven't eaten yet, consider purchasing a hard cheese! Older cheeses, when wrapped and stored properly, can last for weeks. Don't eat cheese but still want to contribute? Consider donating to Lively Run Dairy's GoFundMe! They are buying milk that would otherwise be dumped and turning it into cheese, which will then be donated to food banks to provide meals for those affected by COVID-19.

Can't decide which cheese is best for your needs? Ask a monger! The cheesemongers at the Greene Grape are some of the friendliest, most helpful people you'll ever meet, and we love chatting cheese with you. If you're unable to leave your home but still have burning cheese questions, our team is always available by email at info@greenegrape.com.

Keep reading below to learn about some of my favorite local producers and their cheeses being featured at the Greene Grape! Stop by the shop to bring a few home, or email us to add one to your grocery delivery!
The Greene Grape is proud to offer cheeses from the following producers:

Jasper Hill Farm (Vermont)
Jasper Hill's mission is to make the highest possible quality products in a way that supports Vermont's working landscape, as evidenced by their motto A Taste of Place. Using their on-site dairy and state of the art aging facility, the folks at Jasper Hill have created some of the most well-known cheeses in American history.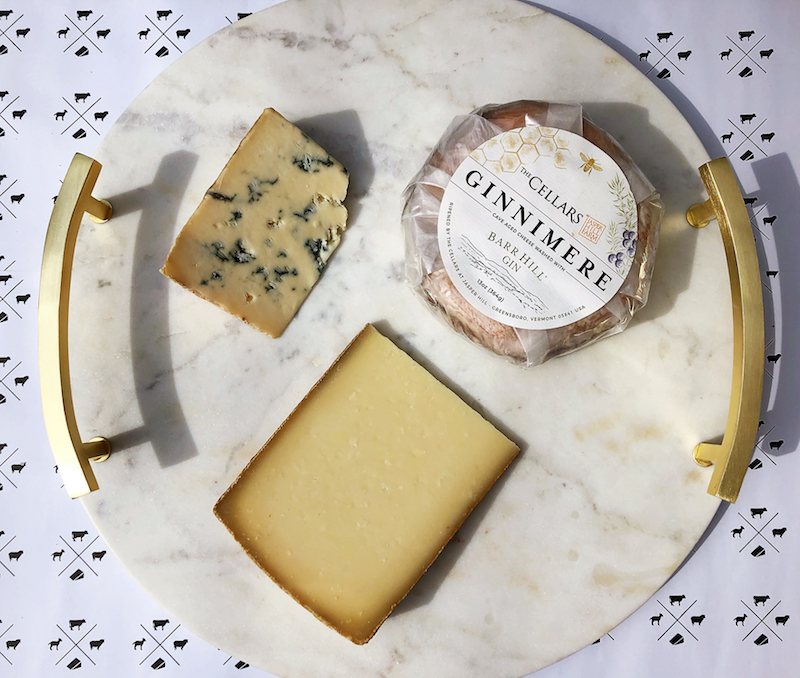 Bayley Hazen Blue is an American classic - made with raw cow's milk and aged 3-4 months, it can convert any blue cheese hater with its fudgy paste and sweet, toasty flavors.

Alpha Tolman, Jasper Hill's take on Alpine cheeses, can conquer any culinary challenge it faces. From grilled cheese to fondue to pasta, this raw cow's milk cheese boasts a buttery-smooth bite with notes of caramelized onions and broth. Swap out Gruyere for some Alpha Tolman in your next quiche or mac and cheese!

Ginnimere is the newest addition to the Jasper Hill family, and it was welcomed with open arms by the cheese community - the first batch sold out almost immediately! This spruce-wrapped beauty is their signature Winnimere (meaty, gooey, goodness) taken to the next level and washed with local Barr Hill gin for an extra punch of flavor!

Crown Finish Caves (Brooklyn, New York)
Crown Finish Caves is a cheese aging facility right in our own backyard! Located under the streets of Crown Heights, Brooklyn, CFC houses cheeses from all over (even Italy!) and their team of expert affineurs ages them to perfection.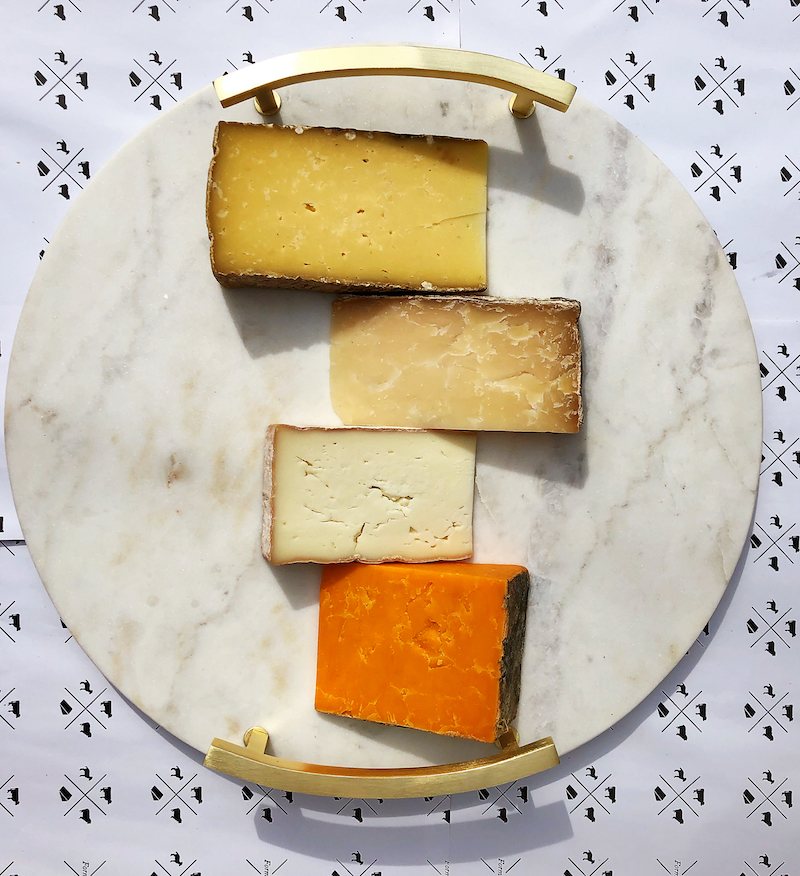 Goatlet is a riff on the award-winning Pawlet cheese, made by Consider Bardwell farm in Vermont. Goatlet is made of 20% goat's milk and 80% cow's milk - the goat's milk comes directly from the farm and is Animal Welfare Approved, while the raw cow's milk comes from a select neighboring farm that provides the highest level of grass-fed cheese-making milk. Goatlet has notes of lemon cream pie and won 1st place in its category at the 2017, 2018, & 2019 American Cheese Society Conferences.

Bandaged Bismark is a sheep's milk clothbound cheddar, covered with smoked lard from Smoking Goose Meatery and aged for 4-6 months. While the cheese is made at Grafton Village Cheese Co. in Vermont, the milk is sourced from nearby Amish farmers. Bismark is savory, sweet, & yogurty, with notes of candied hazelnuts, and the rind expresses the unique natural environment of the Crown Finish Caves. This is cheesemonger Brian's favorite domestic cheese!

Bufarolo is perhaps my favorite cheese that comes from Crown Finish. Made of water buffalo's milk on the Gritti family farm in Italy, this Taleggio-style cheese rests in the caves for 6-8 weeks and is washed in seasonal beer from Brooklyn's own Transmitter Brewing Farmhouse Ales. Bufarolo is luscious and decadent, with the perfect balance of tanginess and sweet cream flavors.

Barnburner is a new addition to the Greene Grape cheese case, and near impossible to miss! Its stunning bright orange paste and unique block shape can be spotted in the case from the produce section. Barnburner is a 2-hour cold smoked cheddar that is made by Grafton Village Cheese Co. in Vermont and is bandaged and covered in lard from Marlow & Daughters in Williamsburg. The result is a cheese that "defies categorization" according to CFC's website, and we have to agree - you just need to try it for yourself!

Firefly Farms (Maryland)
Firefly Farms in Accident, Maryland, makes unique and unforgettable goat cheese. They use milk sourced from family farms within miles of the creamery, with no added hormones or antibiotics.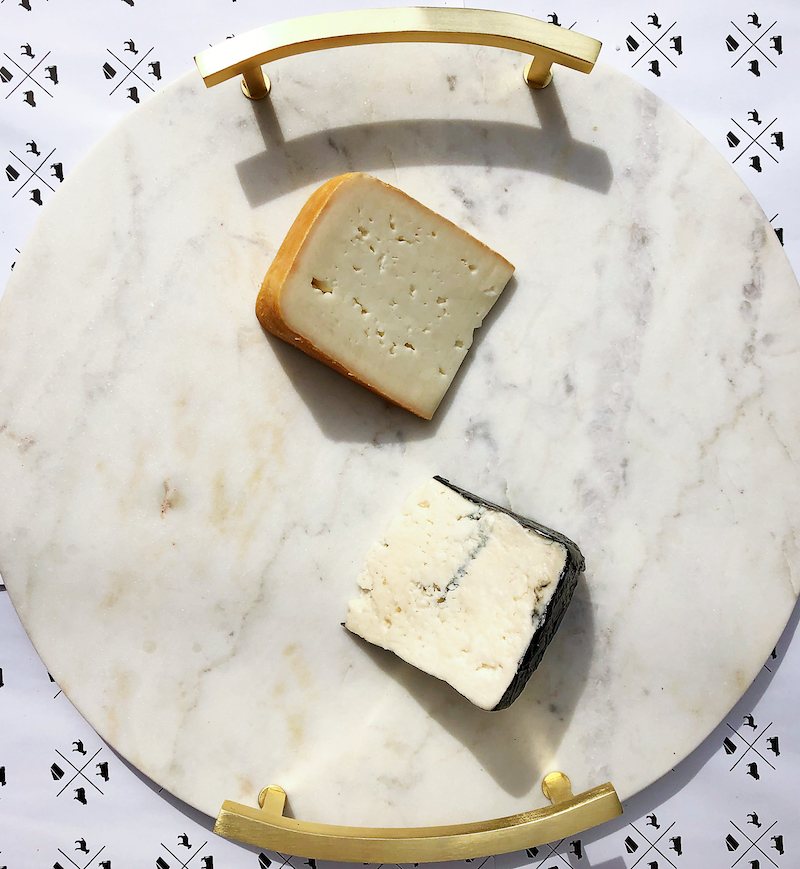 Cabra La Mancha is a small cheese that packs a big, meaty punch. The zingy, semi-firm paste is complemented by the funky, slightly crunchy rind, creating a flavor explosion.

Black & Blue is one of the most visually stunning cheeses I have ever come across. A black foil rind surrounds the stark white paste, which is studded with blue veining. Black & Blue toes the line between tangy and sweet, and really shines when paired with honey or a crisp white wine.

Blue Ledge Farm (Vermont)
Blue Ledge Farm is a first-generation, family-owned and -run dairy and cheesemaker focused on sustainable farming practices. Their mission is to create a high-quality product built on the cornerstones of respect for consumers, land and animals, as well as their local community.
Camembrie is a cheese lover's dream. Can't decide between Camembert or Brie? Why not both? This buttery little disc is made with locally sourced Ayrshire cow's milk and will satisfy your craving for a good bloomy rind.

Lake's Edge is another showstopper that is sure to catch your eye when you walk by our cheese case. This ash-ripened goat's milk cheese has a pure white, chalky paste that melts in your mouth, and a dramatic creamline that just won't quit. A must-try for lovers of Humboldt Fog!

Lazy Lady Farm (Vermont)
Laini Fondiller is one of Vermont's original artisan cheesemakers, creating one-of-a-kind goat and cow's milk cheeses on her off-the-grid, solar and wind powered farm. Taking inspiration from her local community and public radio talk shows, Lazy Lady's cheeses push boundaries and make statements. They are a hot commodity in the cheese world, so if you come across one, don't hesitate to take it home and enjoy a piece of American cheese history!
Quid Pro Quo is a cow's milk round featuring dill, basil, and oregano steeped into the curds. Delicious on garlic bread (just trust me on this).

Bonaparte is a Valencay-style goat's milk cheese with a tangy, lactic paste, accentuated by a stunning grey ash-coated rind.

Oh My Heart is a seasonal bloomy rind cheese made with organic Jersey cow's milk. It is creamy, and sweet with a buttery, tangy flavor reminiscent of a classic Brie.

Nettle Meadow Farm (New York)
Nettle Meadow believes that the key to great cheese is happy animals - that's why their property is home to over 100 farm sanctuary animals who enjoy roaming acres of pasture and snacking on the fresh grass, grains, and wild herbs.

Kunik is a highly awarded triple cream cheese made with mixed goat and cow's milk. If you know, you know…digging into a piece of Kunik is like eating a mouthful of high-quality butter. Decadent and rich, this cheese is perfect for any occasion - especially snacktime.

Amber Kunik is the triple cream you know and love, intensified by a wash of both local beer AND whiskey. Tangy, slightly malty, and sticking to the roof of your mouth, Amber Kunik is a must-try for cheese lovers everywhere.
Shelburne Farms (Vermont)

Shelburne Farms uses their food and farming practices to educate consumers about sustainable agriculture and responsible consumption of food. Based on some of Vermont's most beautiful land, Shelburne Farms produces Humane-Certified farmstead cheddars from the milk of their herd of Brown Swiss cows. The Greene Grape offers their raw milk cheddar aged 1 year, which is sharp but balanced with buttery and grassy notes, and is perfect for sandwiches, macaroni and cheese, and all of your favorite recipes.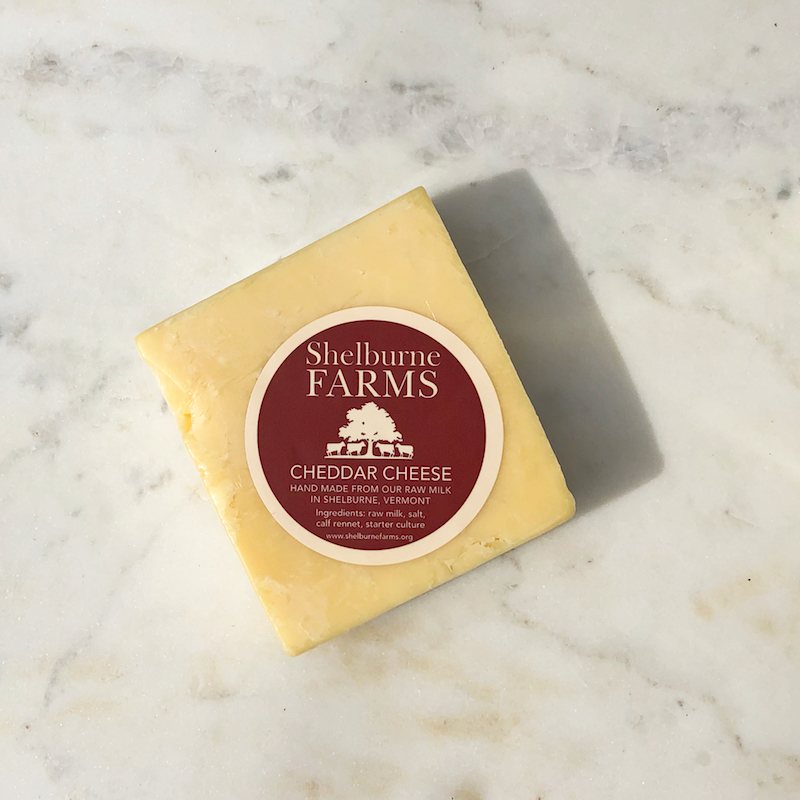 Other selections from small producers available at the Greene Grape cheese counter:
Cato Corner Farm (CT)
Sage Farm (VT)
Lively Run Dairy (NY)
Cochran Farm (NY)
Marcelli Formaggi (NJ/Italy)
Doe's Leap Farm (VT)
Tulip Tree Creamery (IN)
Rogue Creamery (OR)
Cowgirl Creamery (CA)
Point Reyes Farmstead Cheese (CA)
Grafton Village Cheese (VT)
Arethusa Farm (CT)
Liuzzi Cheese (CT)
Calabro Cheese (CT)
Salvatore Brooklyn (NY)
Cypress Grove (CA)
Von Trapp Family Farm (VT)
Roelli Cheese Haus (WI)
Laclare Family Farms (WI)
Springbrook Farm (VT)
Follow us on Instagram at @greenegrape and me at @emdalbero for more cheesy content!