We Deliver Food & Wine!
As an essential service, The Greene Grape is offering contactless delivery and convenient in-store pick-up during this unprecedented time. Delivery and pick-up are available 7 days a week.
Same Day Delivery & Pick-Up:
All delivery and pick-up orders placed today will be fulfilled between 12pm and 9pm. Place your order at least two hours ahead of your preferred delivery time.
When your order is ready for delivery or pick-up, our team will text you with your delivery/pick-up window, as well as any additional information regarding substitutions or requested add-ons.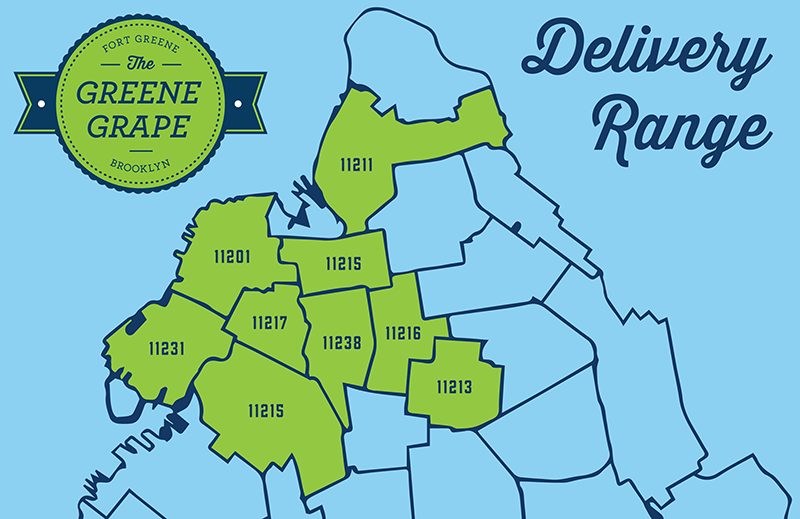 Delivery Zones:
We deliver to: Fort Greene, Clinton Hill. Downtown Brooklyn, Prospect Heights & Brooklyn Heights: 11201, 11205, 11217, 11238, and 11243.
To help serve our customers even better, we've added 5 new zip codes: 11211 (Williamsburg) 11213 (Crown Heights), 11215 (Park Slope), 11216 (Bed-Stuy) and 11231 (Red Hook).
We are also accepting out-of-zone requests for other areas. Reach out to our customer care team hello@greenegrape.com and we'll do our best to get you the groceries you need.
For Wine & Spirits Shipping
Greene Grape gladly ships wine and spirits purchased through this website throughout New York State.
For shipments outside of New York, the sole responsibility for complying with local regulations or tax requirements rests with the customer. State laws change frequently, therefore acceptance of an order is not a guarantee that we will ultimately be able to ship wine to you. If we are unable to ship to your area, we apologize for any inconvenience this may cause and suggest that shipping be arranged to a direct-shipping friendly state.
If you have questions regarding which states we are currently able to ship to, please contact us at 718-797-9463.
For the protection of your wine, we recommend that all shipments are sent to a business address or an address that is equipped to receive shipments during standard business hours. This ensures your shipment won't remain in vans or warehouse facilities overnight without temperature controls.
For Provisions and Gift Baskets
Delivery Minimum & Fee:
There is a $100 minimum for delivery to encourage people to stock up so we can make less frequent deliveries and serve more customers.
We add a $10 delivery charge to all orders under $100. In-store pick-up is free.
Our delivery team is made up of employees who are eligible for benefits and receive paid time off.
Terms:
You must be over the age of 21 to purchase alcoholic beverages. Delivery of products containing alcohol require proof of age in the form of a valid, current photo ID. The name on the ID must match the name on the credit card used during the purchase and a signature must be provided by purchaser at time of delivery/pickup. If proper identification is not available at the time of delivery, your delivery will be refused and the order will be refunded.
Greene Grape reserves the right to refuse service or cancel orders. We do not sell alchohol to any person under the age of 21 years or any visibly intoxicated person.
Please be advised that it is punishable by law for any person to present false or fraudulent evidence for the purpose of purchasing alcoholic beverages.
Wines and spirits are sold by Fort Greene Wines, Inc., d/b/a The Greene Grape, License #1146989, 765 Fulton Street, Brooklyn NY 11217.