Bacon, Leek & Gruyere Quiche
04/06/2020 at 21:42 pm
Follow these easy steps to make a special meal that will impress everyone at your next Zoom brunch!
This recipe serves 4-6 or just 1 (with leftovers for days). Timing: 45 minutes prep/45 minutes baking.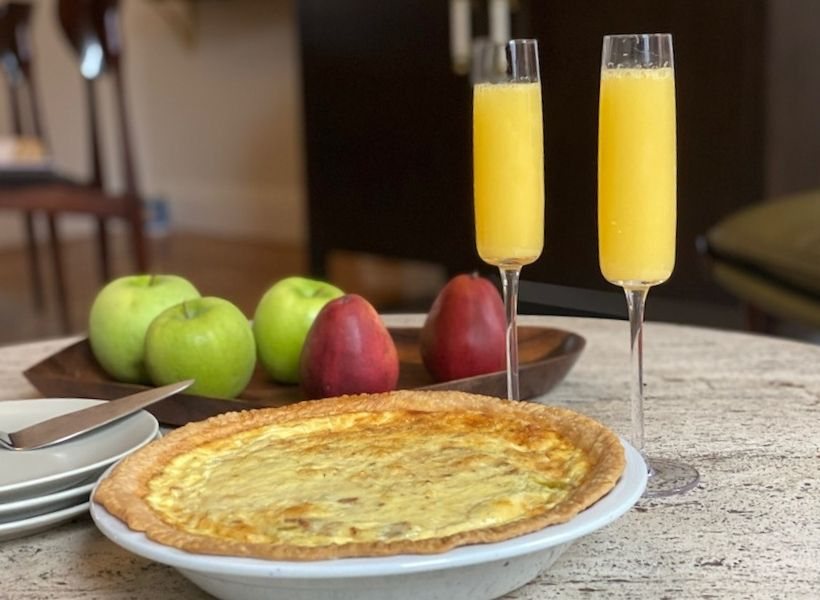 Ingredients:
1 pie crust (store bought or homemade)
4 eggs
1/2 pound bacon
1 large leek, sliced (white and light green parts only)
6 oz. Gruyère, grated (or cheddar or whatever semi-hard cheese you have on hand)
1 pint half & half (or milk or heavy cream)
1 1/2 tsp. salt
1/2 pepper
1 tsp. fresh thyme, finely chopped
Step 1: Prepare the Crust
Preheat oven to 400°. Gather Ingredients and grate the cheese. Roll out pie crust and crimp the edge with a fork. Cover with a sheet of parchment or waxed paper. Add pie weights (it's fine to use dried beans). Blind bake crust on the center rack for 15-20 minutes. Remove from oven and turn oven down to 350°. Remove pie weights and set the crust aside to cool.
Step 2: Prepare the Leeks & Bacon
Slice leeks lengthwise into ribbons. Cut crosswise into small pieces. Sauté leeks in butter until they're bright green. Set aside. Cut bacon into small pieces. Fry over medium heat until slightly crisp. Drain on paper towels and set aside.
Step 3: Prepare the Custard
Crack the eggs and scramble with a whisk. Add salt and freshly-ground pepper. Scald the cream over medium heat. When you see small bubbles start to rise to the surface, turn it off. Do not boil! Add a ladle of hot cream to the beaten eggs to temper them, and then stir in the rest of the cream.
Step 4: Assemble & Bake the Quiche
Add leeks, bacon, and Gruyère to the crust. Cover with the custard and bake at 350° for for 35-40 minutes. There should be the slightest wobble to the custard when it's ready.
Now it's time to mix up the mimosas, equal parts of your favorite bubbly and fresh squeezed o.j., and serve yourself a big ol' slice of quiche.